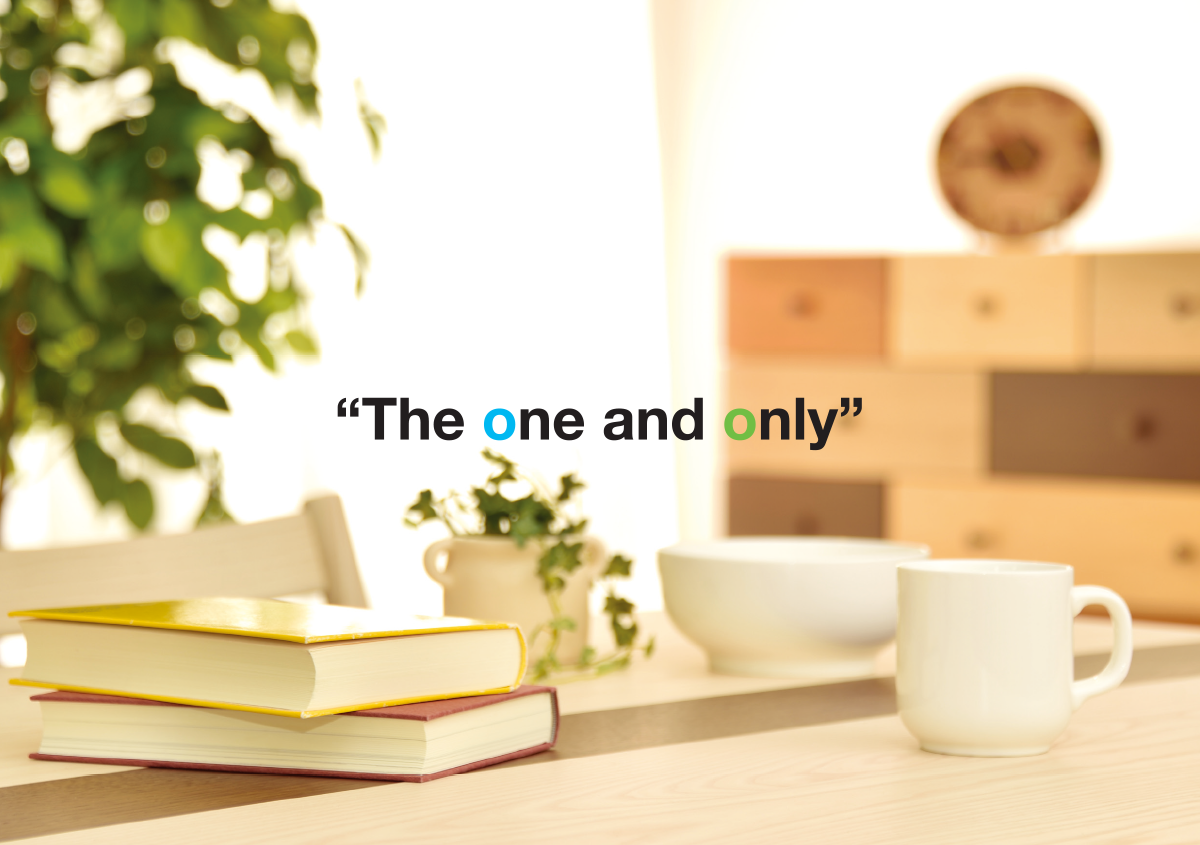 何だろう、この心地よさ。
ふり返るとそこはお気に入りの部屋。
家族がそんな思いに満たされるような
暮らしに生きる家具づくりをしています。
ふと気づくと…
That moment of sudden realization…
Have you ever found yourself in your favorite room wondering, "What makes this room feel so comfortable?" We are committed to making furniture that brings comfort to you and your family in your day-to-day lives.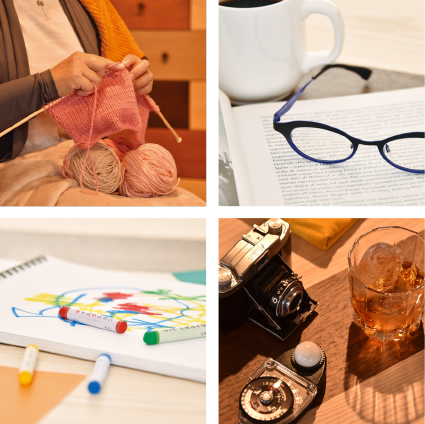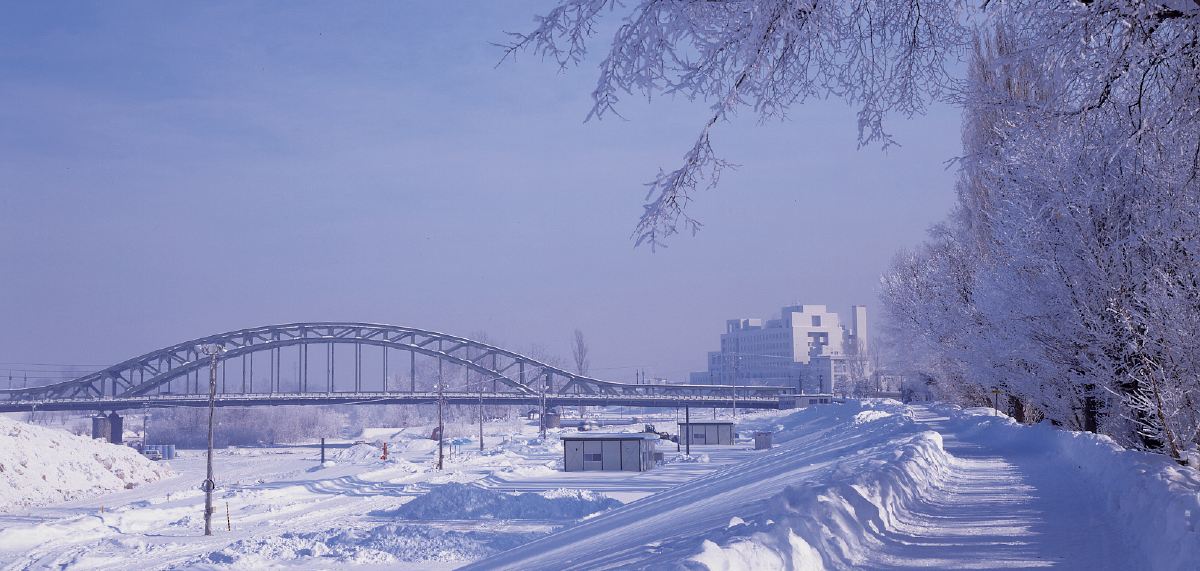 空気が凍るんだよ。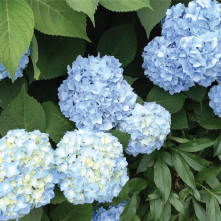 ここは北国。厳しい寒さを知っているから、
温かさをとても大切にしています。
北欧の家具がそうであるように、
旭川で洗練された温かいデザインができるのはごく自然なこと。
その流れに逆らうことなく、
ありのままの気持ちをカタチにします。
A place where even the air is frozen
We live in a northern city. Knowing the bitter cold of winter far too well, we focus on providing a sense of warmth through our furniture. For us, it is perfectly natural to develop sophisticated, warm designs here in Asahikawa that are reminiscent of those created by Nordic furniture artisans. Instead of going against our thoughts and feelings, we express them through our work.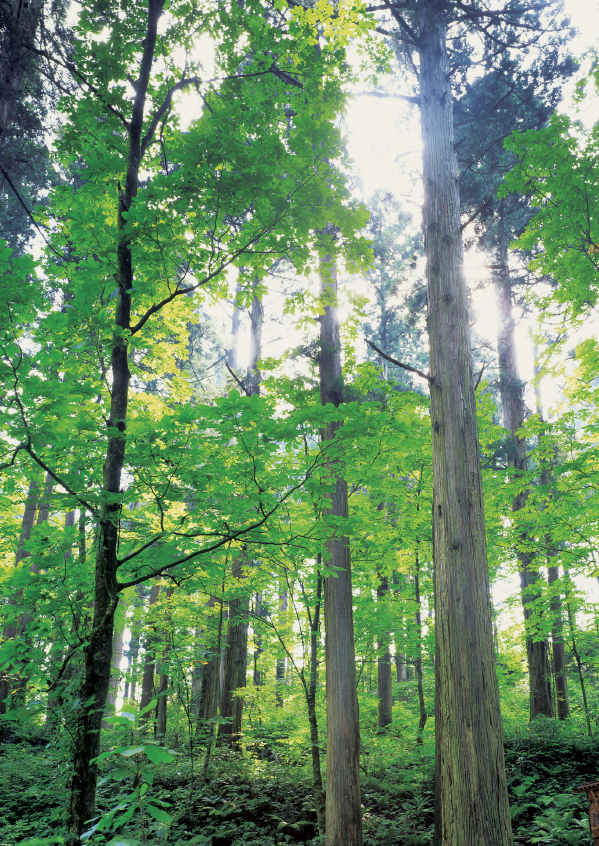 触るだけでわかるんだ。
素材選びは家具づくりに不可欠。
多くの経験が良いものを見分ける目を養います。
確かな目利こそ、家具づくりの原点。
そこから生まれる無限の創造。
思い描くカタチを思うままに…。
We can tell just by the feel
Selecting fine materials is essential for furniture making. As we learn and build up experience, we become better at distinguishing the good from the bad. Developing a discerning eye is the first step to becoming a furniture maker. It is from this that infinite creativity is born, giving shape to our imagination.
ものづくりが大好き。
それがはじまりで、ずっと続けています。
だから、みんな本気で、熱い。
「ついやりすぎちゃうんだよね」と3年目のN君。
「いや、やりすぎるくらいが丁度いい」
とはベテランK部長の談。
夢中になるとつい…
We often find ourselves too absorbed in our work
We love to create. This is why we first started this business and have continued to pursue our dreams. Our love for producing furniture is sincere and passionate. Mr. N, who is in the third year of his career, once mentioned that he has a tendency to become too engrossed in his work. Mr. K, his supervisor and a veteran furniture craftsman, responded by saying that getting too engrossed in your work is actually a good thing.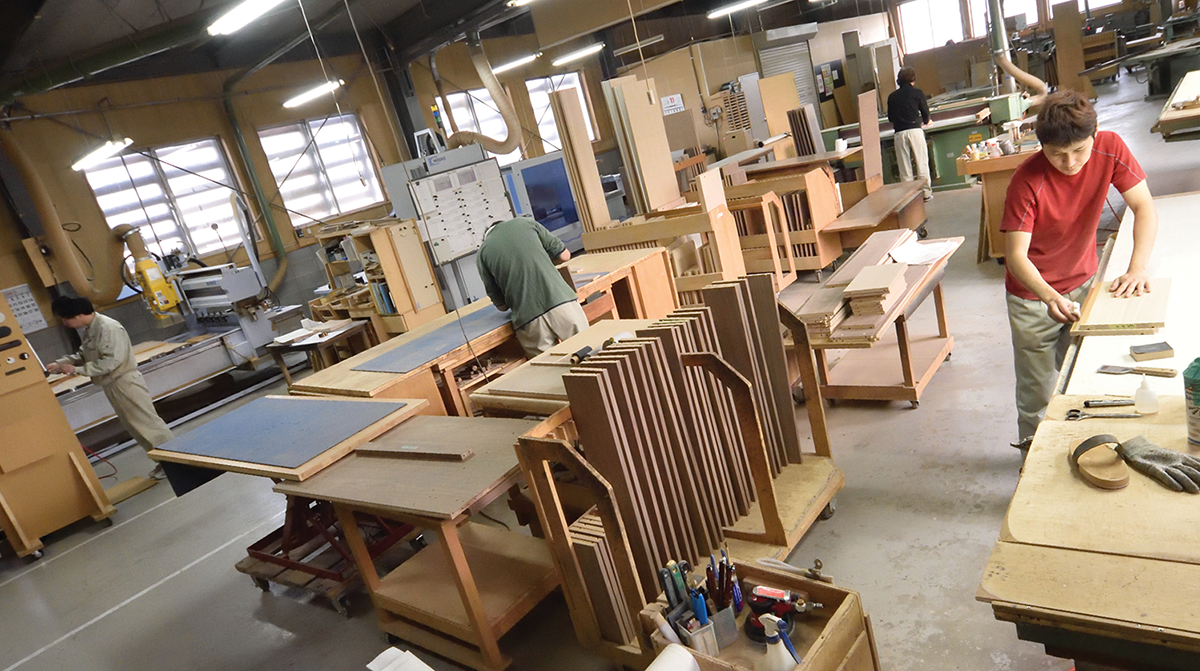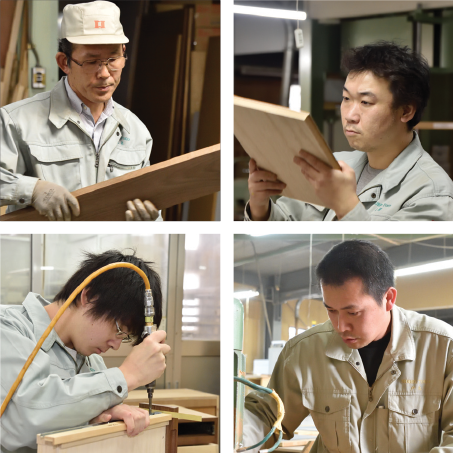 工場内は分業ですが、みんなの心はひとつ。
でも、ここだけは譲れない、こだわりの業があります。
ひとり一人のプロフェッショナルの力が
一本の線でつながる生産工程。
その完成度を、見て触れて感じて下さい。
ここはオレに任せろ。
"Leave it to me."
In our factory, workers divide the work amongst one another, but share the same aspirations. As professionals dedicated to their crafts, there are some things on which they will never compromise. The production process brings together the expertise of each professional. We hope you will observe and experience for yourself the level of perfection for which they strive.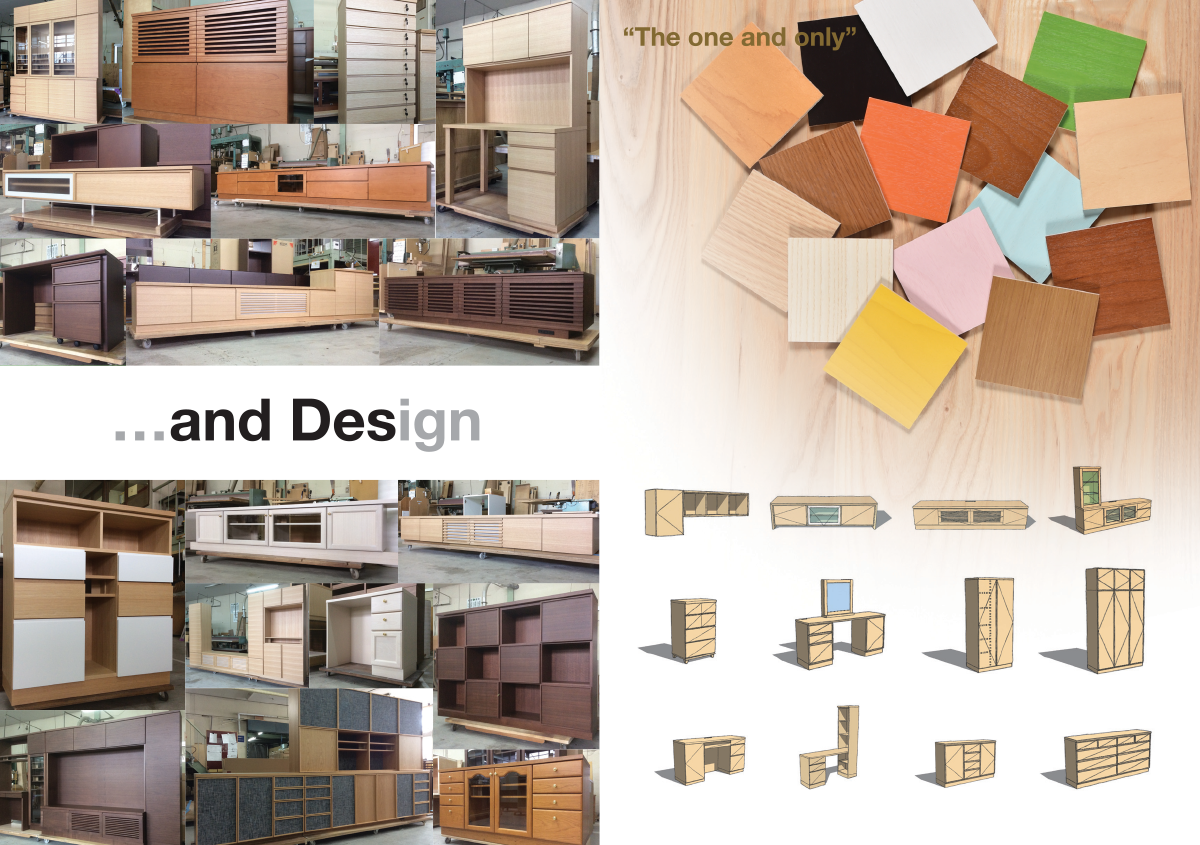 選んでよかった。
そう感じていただくことが、
私たちにとっていちばんのうれしいご褒美。
手がけた家具たちが、
暮らしの中で一緒に育んでもらえるよう、
そう願っています。
「ありがとう」が一番うれしい。
A simple "thank you"
is the best gift we could ever receive
The biggest reward for us is hearing our customers say they are pleased with their selection. Our hope is that our customers will continue to cherish our furniture as they go about their day-to-day lives.